Kindling is an independent, Melbourne based label that exists to create special and comfortable clothing that feels great to wear.
We love design, colour and print and aim to create styles that are both beautiful and ageless but most of all functional and practical for a dynamic woman's lifestyle. 
We feel inspired everyday by our local community- from the hard working mums, professional women and all round- bad asses we're surrounded by. The teacher who needs to sit on the floor, to a photographer who needs to look nice but have pockets for her gear while working, or a tall friend who can never wear jumpsuits (but loves them) or like so many of the customers whose bodies are changing due to children, age or life events and they just want to feel comfortable and look good. It is our aim to produce affordable high quality garments with meaningful design that are made well by people we know and respect. Our clothing is all made with a mix of quality fabrics such as denim, linen and cotton.
Remember the good old days when things seemed to have much more longevity (hello televisions that lasted 20 years?) We want to take our clothing manufacturer back there.  For us, this means no shortcuts, no factories, just quality for longevity.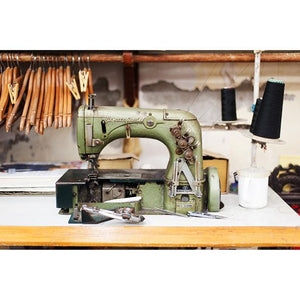 As a business we care about making a positive impact within the fashion industry and our communities. This means our process is a little slower, more considered and sometimes a little chaotic even- but we think it's worth it!
All of the clothing is made carefully and skillfully by professional seamstresses we personally know both in Hanoi, Vietnam and Melbourne, Australia. Every garment is cut and then sewn by one person from beginning to end. This means a certain hand finished quality and attention to detail…. think special buttons and deep pockets with beautiful piping! 
EXPLORE OUR MAKERS
About Nina
Nina started making clothes from a young age, moving from whipping up makeshift outfits for nights out to formal study of Clothing and Textiles in 2005 and in 2015 she completed a Masters of Fashion and Textiles at RMIT, Melbourne.
From 2010 to 2013, Nina was based in Vietnam, working within the Australian aid sector as a designer for a Social Enterprise. Managing a team of hearing-impaired seamstresses provided special challenges and rewards outside the usual. Working closely within the tailoring industry inspired the development of her own workshop. A team of five incredibly talented tailors make all of the clothing, with each garment cut and sewn by one person from beginning to end. This gives the garments a certain hand-finished quality and ensures attention to detail, with the result being beautifully crafted clothing that lasts. There are no factories, and no short cuts. It' a slow and time consuming way to produce clothing, but Nina is sure that it is a strength and ultimate point of difference for her label.
In late 2013, Nina relocated back to Australia, choosing Brunswick as her new home. Over seven years she has enjoyed being a part of the flourishing Australian designer scene in Melbourne first opening a store in Collingwood and now in her beloved community of Brunswick.
I am always checking in with what is special about the garment, and therefore what will make it special for someone else to own and wear. Often it starts with the selection of the fabric but quickly becomes attention to the cut, the proportions and the overall function, then the details; which button, which piping, pocket style and placement, size and shape of the collar. Everything needs to be special and just right. It's like when I match my nailpolish to my underwear and even though no-one else might notice, it makes me feel really balanced and like everything makes sense'
HQ Team Kindling
Kindling is a small but energetic group of women who come from different backgrounds but all share a common love for beautiful clothing that makes us feel comfortable yet empowered. We have a lot of fun together and are really passionate about our community and the women who walk through our door, visit us at markets or browse our collections online. Our store is the front for our working studio where Nina does all of her designing and pattern making as-well as all of the behind the scene small biz day-to-day. 
You may recognise Courtney from our social media. She loves to chat about good pants and sorta takes pride in finding you your perfect pair. 
Her and her partner own a cocktail bar just up the road from Kindling HQ called Dunning Kruger where Courtney makes the American style sweet pie.  (In fact that's how Nina and Courtney met- Nina was a regular!)
If you're a local in Brunswick East you might see her walking her big dogs in the neighbourhood dressed in all Kindling.. Always.
EXPLORE COURTNEY'S PICKS
Eliza has just graduated with a Masters in Curatorship. As someone who's been trying to shift to shopping more purposefully, Kindling clothes embody the thoughtful and timeless design she's been searching for. I tend to wear my clothes to death so having long-lasting, stylish clothes that I can wear for years while still looking good is a must. Working at Kindling has only deepened my understanding of the importance of well-constructed clothes that actually fit my body shape. And I'll never be able to buy clothes without pockets again!
EXPLORE ELIZA'S PICKS